>>> Product Overview
KYBC stationary diesel engine driven self-priming pump is a pump with a novel structure developed on the base of similar technology abroad. The perfect combination of diesel engine and self -priming pump, together with four-wheel mobile trailer and outdoor shelter makes field operation possible, beyond the restriction of climate. The operation can be controlled both manually and automatically.
Combined self-priming with non-clogging sewage, possessing the structure of axial-flow outer recirculation, the uniquely-designed pump body and impeller channel, diesel engine driven self-priming pump can absorb and discharge liquid with large particles and continuous fiber impurities, just as self-priming fresh water pump, without using bottom valve and pump container for water diversion. This pump is therefore can be widely used in municipal sewage discharge system as well as flood-fighting and emergency rescues. KYBC movable diesel engine driven self-priming is your best choice among all kinds of diesel engine driven self-priming pumps.
Compared with domestic pumps of the same category, diesel engine driven self-priming pump is simpler in its structure, more better at self-priming work and more thoroughly in sewage charging. With its quality indexes taking the leading level in China, it has a good market appeal and promising future.
>>> Model Meaning
KYBC300-800-14-D
| | | |
| --- | --- | --- |
| No | Name | Model Meaning |
| 1 | KYBC | Kaiyuan Movable Diesel Engine Driven Self-priming Pump |
| 2 | 300 | Inlet and Outlet Diameters 300mm |
| 3 | 800 | Flow Rate 800m3/h |
| 4 | 14 | Pump Head 14m |
| 5 | D | Customized |
>>> Scope of Applications
Ambient temperature
≤
50
°
C
, medium temperature
≤
80
°
C, for specific job requirements, 200
°
C is allowed.
Medium PH level for cast iron is 6-9, for stainless steel is 2-13.
The specific weight of the medium is required below 1240kg/m3
Self-priming lift should be controlled within the range of 4.5~5.5m, the overall length of suction pipes should be no more than 10m(
≤
10m)
Pipe size capacity: the diameter of suspended particle is 50% of the diameter of the pump, and the length of fiber is 5times of pump's diameter.
>>> Working Conditions
Altitude:
≤
2500m
Ambient temperature: -25-55
°
C
Relative air humidity: 9~95%
Seismic intensity: 7
Flow range: 50~70(l/s)
Head range: 5~70m
Brands of diesel engine: WEICHAI, DONGFENG INSTITUTION, DONGFENG CUMMINS, WUXI POWER, CHANGFA, JICHAI, YUCHAI, BEINEI etc.
>>> Structure and Operating Principles
KYBC diesel engine driven self-priming pump is composed of diesel engine, coupling, pump body, impeller, rear cover, mechanical seal, pump spindle, bearing block, imported pump, gas-liquid separator tube, water valve and drain connection. The structure of the pump is shown in the following figure.
Principle of operation: the pump body with fluid reservoir inside and the working chamber of the pump, being connected with each other through the reflowing valve on the upper side and circulation valve beneath it, from the axial-flow outer recirculation system of the pump. When the pump stops working, it already has a volume of liquid reserve inside its fluid reservoir, when the pump runs, the liquid inside is ejected upward with the air flow under the function of impeller, then it reflows into the working cavity through the gas-liquid separator tube, at the same time, the gas exhausted out of the pump, which makes the pump vacuumed inside so as to get self-priming realized.
>>> Preparations before Starting Pump
Check the fasteners of the joint parts, such as the pump seat, the coupling and the bearing carrier, and make sure that they would not loosen. If any of them get loose, fasten them.
Check the connecting pipes and make sure that there is gas leakage.
Switch on the water valve on the top of the pump, add a volume of water, which is no less than 2/3 of the pump volume. Then switch off the water valve. The next time start the pump, never need to do water rejection anymore.
Get the power line of the storage battery routed to the power source, when the diesel engine is power-on, press down the starting button of the meter panel, give it a test run to see if it rotates clockwise(counterclockwise rotation is prohibited).
Starting up: add antifreezing solution to the water tank of the diesel engine, and fill the fuel tank with diesel oil, then add some lubricating oil(labeled10w-40)to the engine. Route the power line of the starter to storage battery and pay attention to the positive and negative poles.
>>> Product Image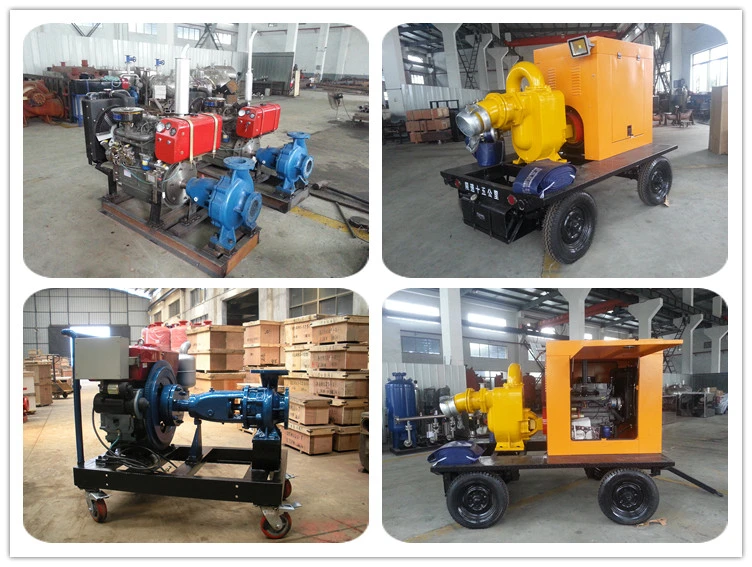 >>> Company Information&Advantages
Shanghai Kaiyuan provides booster pumps, submersible pumps, sewage pumps, fire fighting pumps, multistage vertical (horizontal) water pumps, diesel engine water pumps, water supply equipment and other pumps. Here we have modern production base of 60000 square meters, and 3000 square meters of office, professional R&D institution and technology team, which makes us a world-class company. At present, we have two factories, one is in Fengxian District, Shanghai City; the other is in Nantong City, Jiangsu Province. So welcome to visit our factory.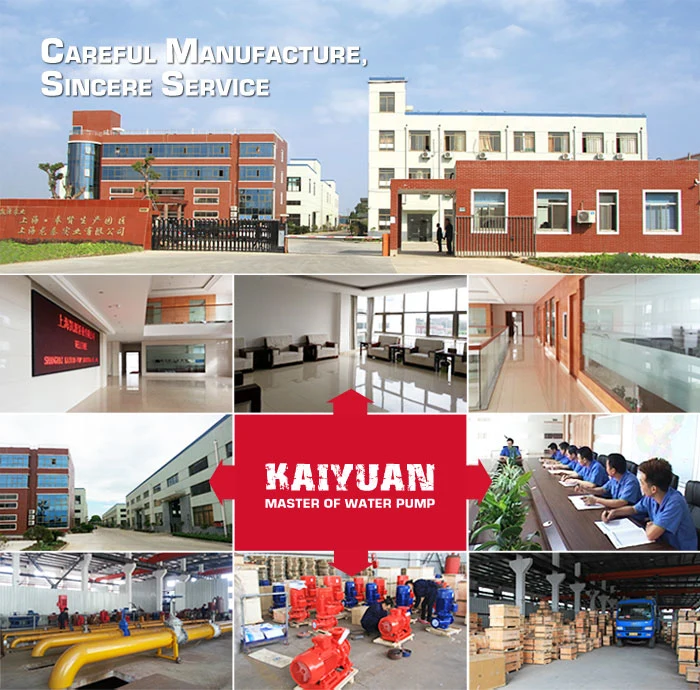 1. Punctual delivery time:
We put your order into our tight production schedule, keep our client informed about production process, ensure your punctual delivery time.

Shipping notice/ insurance to you as soon as your order is shipped.
2. After sales service:
After receiving the goods, We accept ur feedback at first time.

We could provide installation guide, if you have need, we could give you global service.

Our Sales are 24-hours online for ur request.
3. Professional sales:
We value every inquiry sent to us and ensure quick competitive offer.

We cooperate with customer to bid tenders, and provide all necessory document.

We are a sales team, with all techinical support from engineer team.
Shanghai Kaiyuan Pump have many global clients, we offer professional service to them. With the aim of "to establish a close strategic partnership and develop together with customers". we will work whole heartedly to improve our products and service. We will also pledge to work jointly with businese partners to elevate our cooperation to a higher level and share businese together with our customers. We are looking forward to establishing relationships with you and your esteemed company in the near future.